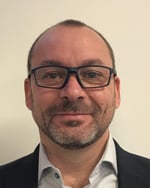 Nick Williams has been appointed Chief Executive Officer of AX, stepping into the role following a period as Deputy Chief Executive Officer.
Nick succeeds Lucy Woods, who led AX for six years and now transitions to Non-Executive Director. He will lead AX after excelling in several senior leadership roles during his three years with the business, holding key strategic positions on the Executive Team.
Prior to his appointment as Deputy Chief Executive Office in 2022, Nick was Strategy Director and subsequently Projects & Propositions Director. He has over 25 years of operational and industry experience including six years with the RAC, leading its Motor Claim businesses and associated connected car development.
Changes to the AX Leadership Team also include the appointment of Nikki Roy to the role of Chief Financial Officer. With 19 years of experience at AX, Nikki has the knowledge and expertise to support the business as it executes its objectives and plans for growth in 2023.
The changes to the Leadership Team of the leading provider of accident aftercare services and intelligent fleet management tools are operationally effective immediately.
Nick commented:
"It is incredibly humbling and exciting as I start a journey to lead a team and business that I have long admired both as a client and colleague. Having spent more than 25 years in this industry, I know AX to be a robust business with strong core values and the ability to inspire loyalty amongst its partners and customers. I am honoured to be trusted with the role of leading this remarkable company.

Nick Williams, Chief Executive Officer, AX
"I would like to thank Lucy Woods for everything she has done for AX, and for the knowledge and guidance she has given to me personally. Elsewhere in the Senior Leadership Team, I am delighted that Nikki has agreed to step into the role of CFO where her expertise is vital in supporting our collective plans for the business."
"As we move into a new chapter with an emphasis on teamwork, enthusiasm, and a determination to achieve our shared goals, we will continue to propel AX forwards with a clear focus on customer service and innovation. These attributes have facilitated the introduction of new services such as AX Motor Assist and AX Electric, and we look forward to continuing our momentum in 2023 and beyond."

Nick Williams, Chief Executive Officer, AX
AX Investors, Ted Doster and Holly Neiweem of Eight Bar Partners, commented: "These leadership changes are the culmination of a planning process that we have all worked on together. We are grateful to Lucy for her years of leadership. On behalf of the board, we are delighted to welcome Nick to the position of CEO and Nikki to the position of CFO. Both Nick and Nikki are proven leaders and are uniquely suited to drive AX into its next chapter. Their collective operational and industry expertise will be an invaluable asset going forward."
For more information on AX Automotive and AX Innovation, click here.